20th Anniversary Tour Contest Winners had a GREAT Trip!
2 lucky couples won a spectacular five day tour to the historic beaches of Normandy, the monument at Vimy Ridge and other historical sites.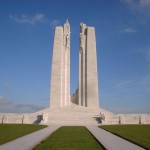 McDermott House Canada, in partnership with True Patriot Love, invite you to enter for your chance to win a trip of a lifetime. Under the direction of two Canadian Historians , accompanied by site tour guides, you will visit Canadian battlefields and landing beaches to learn how our nation became recognized on the global stage. Guest will review strategic failures and successes on both sides of the World Wars and learn what lessons were gained from these historic events.
Grand Prize includes: 5 nights accommodation in Paris; guided tours, and round-trip airfare.
Michael Burns, Vice Chair with True Patriot Love poses with our contest winners at the last dinner in Paris in 2014